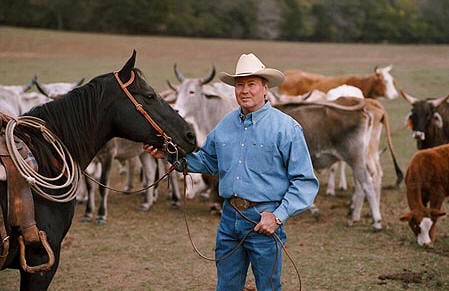 Pritchett Cutting Horses is located on the family ranch south of Quinlan Texas where Doug Pritchett was born and raised and still calls home today. He and wife, Lecia, have a sizable herd of some of the finest cutting horses in the United States. Doug and Lecia have 5 sons and 3 grandchildren. Their twins, Hunter and Trevor, still reside at home where Trevor competes in the High School Rodeo Cutting. They invite you to browse this website and call for more information about their horses.

Doug Pritchett is a successful entrepreneur and Texas Cowboy. His passion for cutting horses spans his entire life and includes breeding, competing, and judging.

Doug has earned numerous awards in the National Cutting Horse and American Cutting Horse Associations. His most recent awards include 2011 NCHA Futurity Limited NP Senior World Champion, 2012 NCHA Super Stakes finalist, 2012 NCHA Derby Limited NP Senior World Champion, and 2012 NCHA Futurity Limited Non Pro Senior World Champion.

Doug is an accomplished NCHA, AQHA and ACHA Judge. He has judged numerous major events throughout the United States including: NCHA World Finals, ACHA World Finals, and National Arabian Championship World Finals to name a few. He has served as the Vice-President of the ACHA and holds lifetime memberships in the NCHA, AQHA, ACHA, Texas Quarter Horse Association, American Angus Association, The Hereford Association, The Braham Association and Bucking Bull Association.

Trevor Pritchett was awarded 2014 Texas High School Rodeo State Champion riding "Shaka Red Feather", and now is headed to Rock Springs, Wyoming to compete in the National Championship High School Rodeo.July 13-19. He is also leading the NCHA Rookie Youth World Champion for 2014, and will compete for the World Title July 21-23 in Ft. Worth, TX riding "Cowcattin". Also Trevor will be taking two horses to the AQHA World Championship in Oklahoma City in August of 2014 (Shaka Red Feather & DJE Widows Doll).

CONGRATULATIONS DOUG!
Unlimited Amateur Derby Champion at the 2016 NCHA Summer Spectacular

CONGRATULATIONS Trevor Pritchett and Shaka Red Feather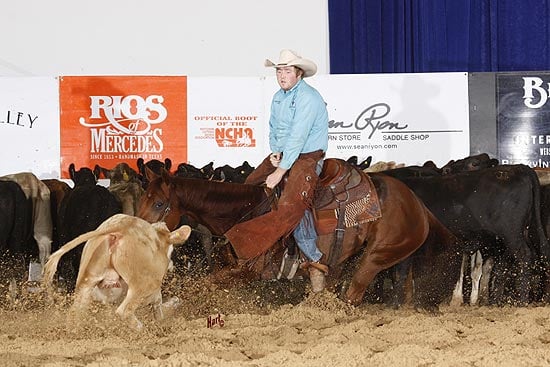 AQHYA World Champions!
Check out our sale page to see what we have available!